About the Grand Master Award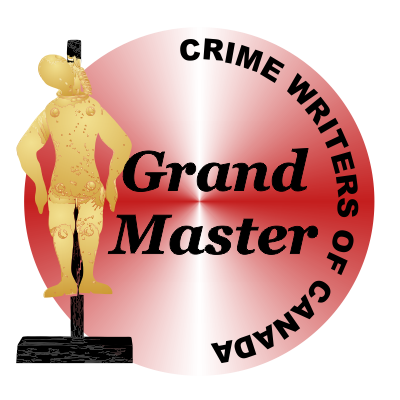 CWC established the Grand Master Award in 2014 to recognize a Canadian crime writer with a substantial body of work who has garnered national and international recognition.
The Grand Master is chosen by a jury chosen by the Chair of Crime Writers of Canada, with advice from the board. The award is presented biennially, alternating with the Derrick Murdoch Award.
Grand Masters
The Grand Master Award is presented biennially to recognize a Canadian crime writer with a substantial body of work who has garnered national and international recognition.
2020 Grand Master: Peter Robinson

Since Peter Robinson's first mystery, Gallows View, appeared in 1987, his growing readership has eagerly waited for each encounter with Detective Chief Inspector Alan Banks. Now with twenty-seven of these moody and layered police procedurals, fans around the world have become attached to the complex, music-loving DCI Banks and his always-intriguing colleagues in the fictional town of Eastvale in North Yorkshire. They've followed Banks, his twisty cases, his career challenges and the ups and downs of his personal life with interest and affection. The series has also been adapted to television by ITV.

Peter has a shelf full of Crime Writers of Canada Arthur Ellis Awards for both best novel and for best short story. Internationally he's been honoured by Le Grand Prix de Littérature Policière (France), the Martin Beck Award (Sweden), the Palle Rosenkrantz (Denmark), the CWA Dagger in the Library (UK), and the American Macavity, Edgar and Barry awards. In 2010, he was presented with the Crime Writers of Canada Derrick Murdoch Award for contributions to the crime genre.

2018 Grand Master: Gail Bowen

Gail Bowen is being recognized by Crime Writers of Canada for her long and illustrious career as a crime fiction author. She has almost 20 books in her long running Joanne Kilbourn series, several of which were either nominated for or received awards, including the Arthur Ellis Award for Best Novel in 1994, for A Colder Kind of Death. She has also written four Rapid Reads novellas and several plays. She is well established in Canada, highly respected in the writing community and much sought after by readers. She is frequently a guest at literary events. Several of her Joanne Kilbourn books were turned into a TV series.

(Photo by Dale Williams)

2016 Grand Master: Eric Wright

If there ever was a crime writer whom the Canadian crime-writing community needs to thank it is Eric Wright. He wrote eighteen crime novels, in four different series, as well as novels, a novella, and a memoir.

Eric's first novel, The Night the Gods Smiled (1983), won the first Arthur Ellis Award for Best Crime Novel, the John Creasey Award from the Crime Writers' Association (CWA), and the City of Toronto Book Award. The Kidnapping of Rosie Dawn (2000) won an Arthur and was nominated for an Edgar from the Mystery Writers of America (MWA). His writing career spanned over forty years and his contribution to Canadian crime writing was, without question, immense. This was recognized in 1998 when Eric received the Derrick Murdoch Award for lifetime contribution to Canadian crime writing.

Eric Wright passed away in October, 2015, shortly after being notified that he had been selected for the Grand Master Award.

2014 Grand Master: Howard Engel

It is with great pleasure that Crime Writers of Canada presents the inaugural award to Howard Engel, a mainstay of Canadian crime writing for many years.

Since his first book, Suicide Murders, introduced P.I. Benny Cooperman in 1980, his detective series has garnered both national and international recognition. He has won numerous awards for his writing, including 1985 Arthur Ellis Award for Best Novel, the 1990 Harbourfront Festival Prize for Canadian Literature, the 1998 Derrick Murdoch Award and the 2005 Writer's Trust Of Canada Matt Cohen Award. He was chosen as the Barker Fairley Distinguished Visitor for University College at the University of Toronto and in 2007 named to the Order of Canada.

His books have been published in over 20 countries and two have been adapted for TV films.

Mr. Engel was a founding member of Crime Writers of Canada and a past president.