Join Crime Writers of Canada,
the national professional association
for crime writers and associates

Click here to find out who can join and what it costs.
For crime authors: We're here to promote you and your work, and to help you develop throughout your writing career, while connecting with fellow members as part of our mandate to raise the profile of crime writing in Canada.

For reviewers, editors, publishers, librarians, booksellers: Keep a finger in the pie of Canadian crime fiction and nonfiction.

For readers and fans: Find new great Canadian books and connect with our authors.
Professional Author Member Promotion
Cool Canadian Crime: This is our catalogue of our Professional Author Members' books, novellas, and short stories which have been published in anthologies and recognized magazines in the current year. It is the key source of bibliographic information about Canadian crime fiction. Updated quarterly, it is:
easily accessed by anyone visiting the Crime Writers of Canada website, allowing them to view members' works;

available online to booksellers, librarians, and the reading public, and mailed to over 2000 people every month, with our public newsletter;

provides four editions published separately on the website to highlight new or recent releases.
The CWC Website: This receives an average of 5000 visitors per month, and is the online portal for Canadian crime fiction; it presents a unique promotional opportunity for our members. The public uses the website to access the following:
member Bio pages: all members are able to have a personal bio page; PAM bio pages include a listing of their books, with covers, automatically updated when they are added to the online catalogue.

a calendar of events featuring our members day-by-day across Canada, and around the world, which members

can access directly, to tell their readers and

fans where they can be found;

a unique searchable database of our members' works (by author, title, year, category or region);

Cool Canadian Crime – our digital catalogue of our members' works, updated quarterly;

our Homepage features the cover art of new releases by our members on our moving "scroll of honour", updated monthly;

information about the CWC Awards of Excellence.
Crime Beat: This is our monthly public e-newsletter, which is sent to an impressive mailing list of almost 2000 people across Canada and around the world. Crime Beat contains notifications of new releases by our members month by month, the monthly calendar giving details of events featuring our members, and the latest edition of Cool Canadian Crime.
Participation in Regional, National & International Events: CWC sponsors appearances at Word on the Street in various cities across Canada, WORD Vancouver and the Ontario Libraries Association Conference. We usually organize CWC events and gatherings at international conventions and conferences too - like Left Coast Crime and Bouchercon - where our members can benefit from being part of a larger, recognisable group and enjoy a chance to meet fellow members.
Crime Writers of Canada is proud to be affiliated with
Benefits for All Members

Regional Representatives:
Each region nominates a director from the Board who becomes the main point of contact for members in that region. Regional representatives are there to support members in whatever way they can; many give advice on setting up local events, are able to pass on their experience in terms of pitching to festivals etc., and can give general insights about CWC.
Webinar Series:
Started in 2019, this is a new benefit free to all members. We source guest from inside and out of CWC to share their knowledge on the business and creative sides of writing with the aim of offering something to new writers and established authors.
The Inside Scoop, our members' newsletter:
We have an informative quarterly members newsletter that contains articles and information about matters relevant to crime writers in Canada, and around the world. Regional Reports give a thumbnail on doings across the country and members contribute to the newsletter, sharing their experience, research and tips. Industry News informs members about what is going on in our industry as well as about conferences, festivals and contests being run by other organizations.

Members only area of website:
We maintain an archives of member resources including:
Webinar recordings so members can access past presentations

Member Marketing Memos
Past newsletters and articles


Board minutes, AGM documents, bylaws, etc;

Members Contact list where members are listed by region, includes membership category and, if the member permits, contact email or website.
Via the Members Only Section, members have direct access to:
Event Calendar form for PAMs to upload their events for promotion to fans and browsers


Book Submission form to allow PAMs to upload information about their new releases to Cool Canadian Crime catalogue, and back list books to the Members Books searchable database.

Downloadable promo material including Membership Badge, seasonal promotions and book posters

The CWC Awards of Excellence:
Celebrating the best in Canadian crime fiction with a juried annual competition, these awards have acknowledged distinction in Canadian crime writing since 1984 and are a wonderful way for the CWC brand to be seen around the world. All our members benefit by association. The awards are presented at a prestigious banquet in Toronto each May; it's open to all, and is usually attended by publishers, reviewers, authors and the press. Coverage builds valuable equity for the CWC brand.
For more information about the Awards of Excellence click here.
Events
Annual events include Word on the Street - Toronto, Word Vancouver, The Ontario Library Association Superconference and The CWC Awards Gala. In addition, regional and national events are organized. They include participation in conferences, author panels and bookstore events. With the global pandemic, some of these events have gone online and other online events have been added, including the CWC Zoom Meet and Greet and the AGM.
Commercial General Liability Insurance: CWC provides Commercial General Liability Insurance (CGL) coverage for Associate and Professional Author Members to protect them against claims arising from injury or property damage that members of CWC may cause to another person or property as a result of their participation in official CWC activities.
Access to Health Insurance: Membership in CWC comes with access to the Writers' Coalition Program -- an affordable health insurance program offered by the not-for-profit insurer AFBS. The Writers' Coalition Program is designed to help those in the writing community manage their health care costs. CWC members are guaranteed acceptance into the program, with no medical questionnaires necessary and no refusals based on preexisting conditions. There are two program options: Standard and Comprehensive. Both options offer dental, prescription drug, extended health care, and travel emergency medical coverage. Both options also provide life and AD&D insurance and a Member and Family Assistance Program. There's a monthly payment option available and premiums may be tax deductible.

Errors and Omissions Insurance: Access to affordable Errors and Omissions insurance is available to many CWC members. Some examples of what this insurance provides coverage for allegations of are: defamation, libel, slander, plagiarism, and infringement of copyright. Limitations do apply.
Valuable discounts/offers from various magazines: Crimespree Magazine, Mystery Scene Magazine, Mystery Weekly Magazine, Quill and Quire Magazine, Sherlock Holmes Mystery Magazine, The Strand Magazine.
Reciprocal membership discount: A 20% discount on your first year of membership of the UK's CWA if you're a member of CWC, and vice versa.

JOIN US TODAY!
We welcome professional and aspiring writers of any genre of crime writing, including children's and nonfiction.
Are you a fan or "in the business"?
We welcome readers of crime fiction too, in our Associate Member category!
Associate Members are listed by: Writers, Editors, Publishers, Reviewers/Critics, Booksellers/Restaurants, Librarian/ Readers and Supporters (aka fans).

You'll receive our member newsletter, and have access to the "Members Only" areas of our website, including access to available discounts. You'll be able to mingle with fellow members at events near and far, and know you're part of a team. If you're an aspiring writer, check out Unpublished Category for the best unpublished crime manuscript which we sponsor each year.

Crime Writers of Canada would like to thank some of our partners in crime.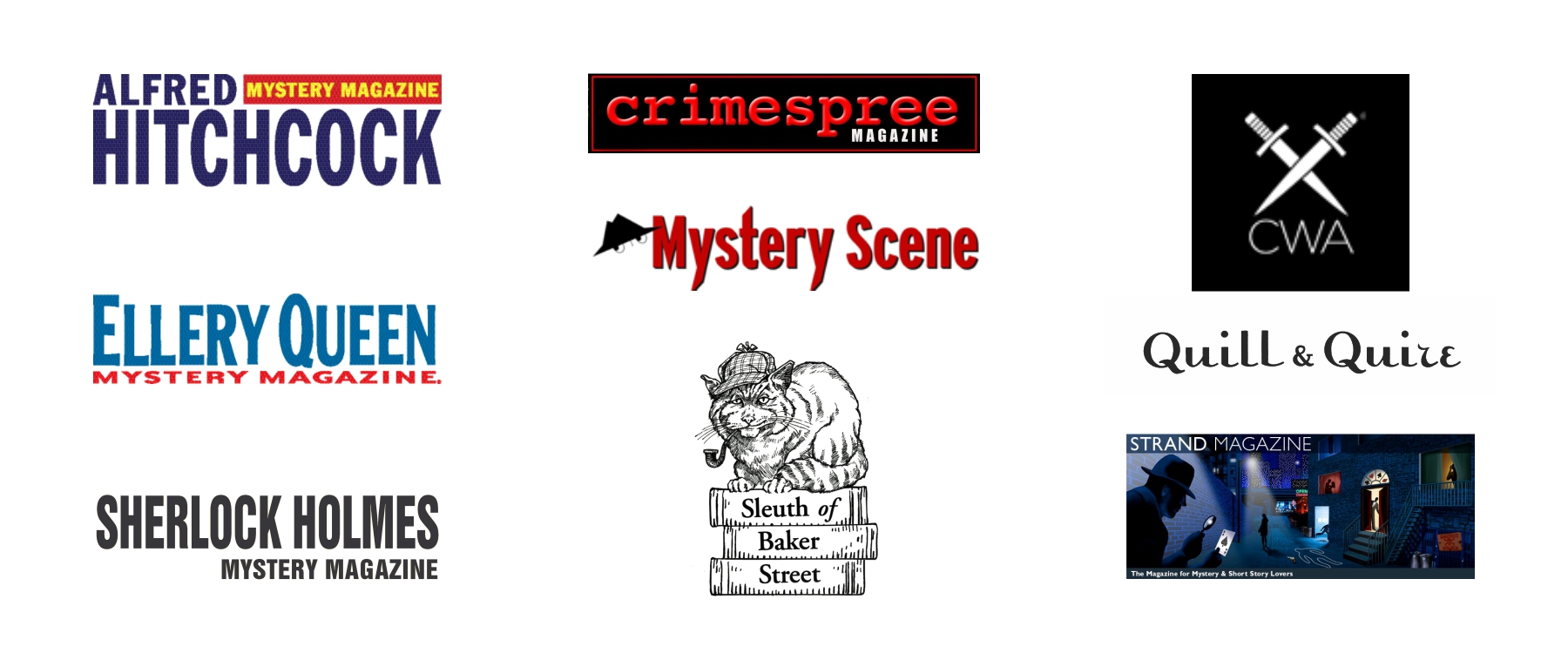 FOR MEDIA AND SPONSORSHIP INFORMATION:
Please contact Executive Director, Alison Bruce