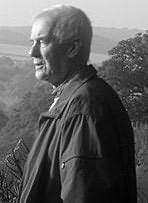 Eric Wright, 1929-2016

If there ever was a crime writer whom the Canadian crime-writing community needs to thank it is Eric Wright.
Eric Wright wrote eighteen crime novels, in four different series, as well as novels, a novella, and a memoir. Eric's first novel, The Night the Gods Smiled (1983), won the first Arthur Ellis Award for Best Crime Novel, the John Creasey Award from the Crime Writers' Association (CWA), and the City of Toronto Book Award. The Kidnapping of Rosie Dawn (2000) won an Arthur and was nominated for an Edgar from the Mystery Writers of America (MWA).
His writing career spanned over forty years and his contribution to Canadian crime writing was, without question, immense. This was recognized in 1998 when Eric received the Derrick Murdoch Award for lifetime contribution to Canadian crime writing.
Eric Wright passed away in October, 2015, shortly after being notified that he had been selected for the Grand Master Award. Eric continued writing until shortly before his death, and in May 2016, Cormorant Books released The Land Mine, a historical novel loosely based on Eric's own childhood in World War II London.
"With his detective Charlie Salter, novelist Eric Wright created one of the country's most popular literary heroes. Much like Salter doggedly working a case, Mr. Wright was known for meticulously crafting the plots of his crime novels, which were always readable and quintessentially Canadian."
Globe and Mail