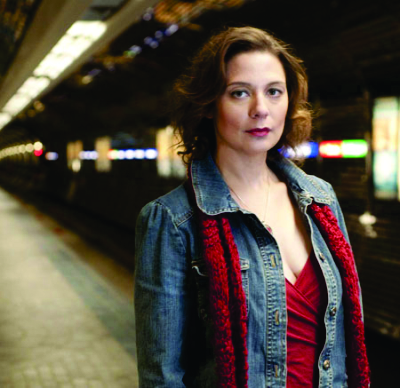 Gayleen Froese
Gayleen Froese is a novelist and musician from western Canada. She has lived in Saskatoon, Toronto and Prince Albert, and now lives in Edmonton's historic Alberta Avenue district. The 38-year old has worked as a radio writer and talk show host, an advertising creative director, and a communications officer.
Gayleen appeared on Canadian Learning Television's A Total Write Off in 2006 and was the winner of the second series of BookTelevision's 3 Day Novel Contest, which aired in late 2009. She was also shortlisted in the overall 2007 and 2010 International Three-Day Novel Contests.
Gayleen's non-fiction and humour writing has appeared in publications including See Magazine, The Rat Creek Press, and The Session.
Gayleen has released three albums and played showcases across Canada, including Toronto's NXNE. Her first CD, Obituary, won an Undiscovered Artist Award from CBC Radio
Grayling Cross, 2011

"This is a lively novel filled with action, both real and unreal." - The Globe and Mail

Why is magic still a secret in Edmonton? Good PR.

Psychic Anna Gareau and public relations expert Collie Kostyna keep things quiet for local magicians and for their biggest client, an underground supernatural society known as the Embassy.

In Grayling Cross, an investigator arrives in town on the trail of a missing teenage psychic, and hires Anna and Collie to be his liaisons to the local magic community. Troublingly, though, he turns out to have a knack for suppressing magic, leaving magicians powerless and vulnerable — and the Embassy wastes no time telling Anna and Collie to get him out of town.

When an Embassy employee is found murdered in a house nobody should have been able to enter, with a weapon that never should have killed him, Anna and Collie wonder whether their client could be responsible.

Touch, 2005

"Froese sets a wonderful pace, not unlike a person driving a boat pulling a water skier, keeping the speed just right." -Crime Spree Magazine

Anna Gareau came to Victoria B.C. with two secrets. One was an unregistered pistol she was delivering to a collector on the Island. The other was something she couldn't even name, a strange talent that allowed her to touch things and feel the emotions and memories their owners had left behind.

Collie Kostyna came to Victoria to uncover a few secrets. Her best friend, Jocelyn, worked for The Rail, a news magazine headquartered in Victoria. Jocelyn had phoned Collie to complain about the magazine's staff. They were behaving strangely, committing unmotivated crimes. One had committed suicide.

Jocelyn had a theory that her office was under attack and she wanted to tell Collie the details. Minutes before Jocelyn and Collie were supposed to meet, Jocelyn was found dead in a hotel swimming pool.

Led by circumstances to investigate together, Anna and Collie find themselves in a world of arrogant magicians and unchecked power, confronted with secret talents that Anna finds uncomfortably familiar. By the time they've solved the crime, it has become the least of their concerns.
Twitter: @gayleenfroese
Last updated: 21 December 2016