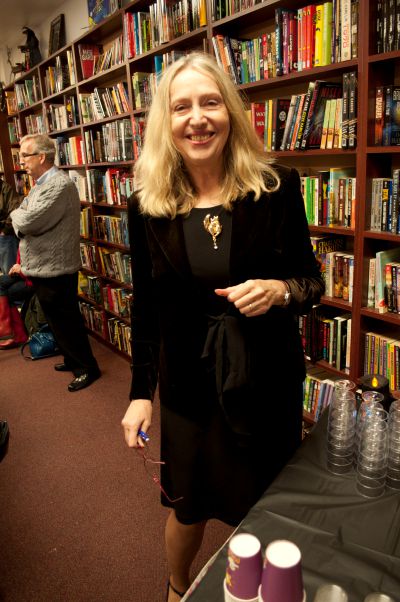 M.H. Callway
M. H. Callway is the pen name of Madeleine Harris-Callway. Her critically acclaimed debut novel, Windigo Fire, was a finalist for the 2015 Arthur Ellis Best First Novel Award. Margaret Cannon, the crime fiction reviewer of The Globe and Mail, called her "a writer to watch".
Madeleine's short crime fiction has been published in many anthologies and magazines. Her stories and novellas have won or been short-listed for several awards, including the Arthur Ellis, Debut Dagger, and Derringer.
In 2013, she co-founded the Mesdames of Mayhem: a collective of leading Canadian crime writers. They are showcased in four critically acclaimed anthologies: Thirteen, 13 O'Clock, 13 Claws, and In the Key of 13. In 2019, the collective was the subject of a CBC documentary, The Mesdames of Mayhem, by award-winning director, Cat Mills. View the film on YouTube and GEM.
An avid cyclist, runner, and downhill skier, Madeleine has participated in the Toronto Ride to Conquer Cancer every year since its inception.
Novels:
Windigo Fire, Seraphim Editions, 2014
Short Stories:
"Glow Grass" in 13 O'clock by the Mesdames of Mayhem, Carrick Publishing, 2015.
"The Ultimate Mystery" in World Enough and Crime, Carrick Publishing, 2014
"The Lizard", Crimespree Magazine, Summer Issue 2013 and reprinted in Kings River Life Magazine, August 2014. Winner of the Bony Pete Award.
"Amdur's Cat" in Thirteen by the Mesdames of Mayhem, Carrick Publishing, 2013
"Incompetence Kills" in EFD1: Starship Goodwords, Carrick Publishing, 2012
"The Dog on Balmy Beach" in Going Out with a Bang by The Ladies Killing Circle, Rendezvous Crime / Dundern Press, 2008
"Christmas in Alice" in Blood on the Holly, Baskerville Books, 2007
"The Widows and Orphans Fund" in Futures Mystery Anthology Magazine, March 2007
"Kill the Boss" in Silver Moon Magazine, January 2006 and reprinted in Mouth Full of Bullets, September 2007
"Snake Oil" in 13 Claws, Carrick Publishing, 2017
"The Cry" in Mystery Weekly, April 2018
"The Seeker" in The Dame was Trouble, Coffin Hop Press, 2018
"Brainworm" in In the Key of 13, Carrick Publishing, 2019
"The Eternal Bakery of the Fractal Mind" in A Grave Diagnosis, Carrick Publishing, 2020
Awards:
Finalist, Arthur Ellis Award for Best First Novel, 2015
Finalist, Derringer Award for Best Long Story, 2015 for "The Ultimate Mystery"
Finalist, Unhanged Arthur Award, 2012
Winner, Bony Pete Award, 2012 for "The Lizard"
Finalist, Crime Writers Association Debut Dagger Award, 2009
Winner, CWC's Golden Horseshoe Award, 2005 for "Kill the Boss"
Finalist, Arthur Ellis Best Novella Award, 2016 for "Glow Grass"
Finalist, Arthur Ellis Best Novella Award, 2018 for "Snake Oil"
Website: www.mhcallway.com